Show results for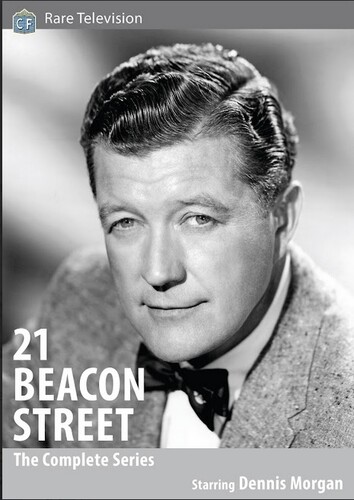 Description
21 Beacon Street: The Complete Series on DVD
SYNOPSIS:
Now available for the first time on DVD from ClassicFlix—the rarely seen TV crime drama 21 Beacon Street starring Dennis Morgan!
In the city of Boston, Dennis Chase (Morgan) is the go-to private investigator for law enforcement and citizens alike. With the help of his secretary Lola (Joanna Barnes, Spartacus) street-wise attorney Brian (Brian Kelly, Flipper TV show) and high-tech wiz Jim (James Maloney), Dennis keeps a close watch on law and order by devising clever methods to trap lawbreakers.
A summer replacement for NBC's popular The Tennessee Ernie Ford Show, and in some ways seen as a forerunner to the 1960s crime-action series Mission: Impossible (Beacon creators later sued M.I. producers for plagiarism), 21 Beacon Street was the first TV series produced by Filmways Pictures Corporation, which would later put out such fan favorites as The Beverly Hillbillies, Green Acres and The Addams Family, among many others.
While former Warner Bros. leading man Dennis Morgan did make occasional guest appearances on television, 21 Beacon Street was his first, and only, shot to star in his own TV series. The 13 episodes in this complete collection include such familiar guest stars as DeForrest Kelley, Jerry Paris, Whit Bissell, Anthony Caruso, Steve Brodie, Ted DeCorsia, Barney Phillips, Paul Bryar, Paul Dubov, Harry Bellaver, Henry Corden, Sally Fraser, John Hoyt, Myron Healey, Jean Willes, Alberto Morin, Paul Richards, Joan Ta
DETAILS:
FORMAT: DVD
GENRE: Television, Crime Drama, Drama, Crim
RATING: NR
RUNTIME: 338 minutes
LANGUAGE: Engl
Theatrical Year: 1959
Aspect Ratio: 1.33:1
Studio: ClassicFlix
Region: 0
Color/B&W: B/W
Special Features:Selction of original commercials which played during the series.
NOTABLE TALENT:
Director: Jean Yarbrough
Actors:Dennis Morgan, Joanna Barnes, Brian Kelly, James Maloney, DeForrest Kelley, Donna Douglas, Jerry Paris, Whit Bissell, Anthony Caruso, Steve Brodie, Ted DeCorsia, Barney Phillips, Paul Bryar, Paul Dubov, Harry Bellaver, Henry Corden, Sally Fraser, John Hoyt, Myron Healey, Jean Willes, Alberto Morin, Paul Richards, Joan Taylor, Cyril Delevanti
21 Beacon Street - The Complete Series (ClassicFlix Rare TV)