Show results for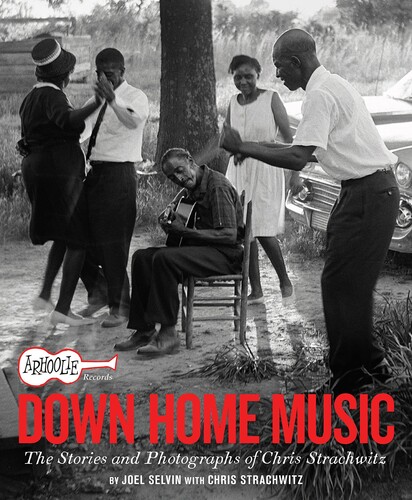 ARHOOLIE RECORDS DOWN HOME MUSIC
Summary:
A visual storytelling celebration of American roots music in its rich variety through unseen and newly scanned photographs by the founder of the legendary Arhoolie Records.
Founded in 1960 by Chris Strachwitz, the one-man operation Arhoolie Records eventually produced more than four hundred albums during more than forty years in operation, exploring the far corners of American vernacular music-blues, gospel, Cajun, zydeco, hillbilly, Texas-Mexican norteno music, and more. From the very beginning, Strachwitz brought his camera along with recording equipment as he met and recorded now-legendary artists such as Lightnin' Hopkins, Mississippi Fred McDowell, Clifton Chenier, and Big Joe Williams.
This book collects more than 150 of his best, most intimate, and exciting images-many never-before-seen-each with rich captions by Strachwitz and award-winning music journalist Joel Selvin, along with a substantial 20,000-word essay by Selvin about Arhoolie, Strachwitz, and the music.
INTIMATE AND AMAZING PHOTOGRAPHS: Although Strachwitz would always self-deprecatingly claim that the photographs he took while meeting and recording musicians were strictly documentary, and *maybe* of some use for a record sleeve later, they are much more than that. Lyrical, candid, real: His rapport with the musicians and their families is glowing and evident in these photographs.
RIVETING MUSIC HISTORY PHOTO BOOK: These are never-before-seen photos, and photos like you've never seen before. Every image is from freshly remastered scans, and the authors dove deep into the Arhoolie archives to uncover images almost no one has had the chance to see.
CRUCIAL AMERICAN MUSIC AND CULTURAL HISTORY: Strachwitz's wide-ranging interest and unbridled enthusiasm for all sorts of roots music led to his crisscrossing the country from artist to artist based on recommendations, rumor, tips, radio broadcasts-the result being a portrait (in sound for the label, and image in this book) of vital American music in a wide range of genres. He has rich stories for each photograph and artist.
AN INVALUABLE DOCUMENT: Arhoolie fundamentally shaped our understanding of American music. Renowned music writer Joel Selvin has not only worked with Strachwitz to draw out the stories behind the photographs, but he has contributed an invaluable long-form essay about Arhoolie, Strachwitz, and the label's cultural legacy to anchor this incredible book.
About the Author:
Joel Selvin is an award-winning journalist and the bestselling author of more than twenty books on pop music. He was pop music critic for the San Francisco Chronicle for thirty-six years, first interviewing Chris Strachwitz as one of his earliest articles for the paper.
Chris Strachwitz is the founder of Arhoolie Records and the Arhoolie Foundation. Through his long and storied career as a record producer, record collector, filmmaker, and documentarian, Strachwitz worked to celebrate and promote what he termed "down-home" music: the tradition-based, regional styles of the U.S. and its borderlands, including blues, Cajun, Zydeco, Tejano/Norteno, mariachi, gospel, bluegrass, old-time, polka, and more.
Smithsonian Folkways, the nonprofit record label of theSmithsonian Institution, describes Arhoolie Records as "the most important roots record label of the last sixty years." As one of the most celebrated documentarians of American roots music over the past half-century, Strachwitz brought his tape recorder and camera into dancehalls, churches, garages, boucheries (pig roasts), and homes, where generations of musicians have kept the region's music alive. The images Strachwitz captured, many of which graced Arhoolie album covers, are an enduring testament to American vernacular music.
Hardcover: 240 pages
Music / Genres & Styles / Blues / Folk & Traditional / Country & Bluegrass