Show results for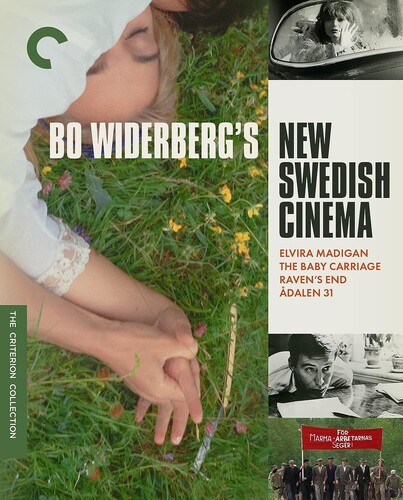 Description
Bo Widerberg's New Swedish Cinema (Criterion Collection) on Blu-ray
Driven by a desire to forge a socially conscious Swedish cinema—one that broke with the inward-looking psychodrama of Ingmar Bergman to give dynamic expression to the everyday experiences of working-class Swedes—writer Bo Widerberg turned to filmmaking in the early 1960s, realizing his ambition in politically committed yet poetic works that merge social-realist themes with a refined, often breathtakingly beautiful visual sensibility. Dramatizing the struggles of ordinary people fighting to chart their own destiny, these four acclaimed, popular, and pivotal films from Widerberg's most prolific period live and breathe with a rare vitality—and helped launch a new Swedish cinema.
The Baby Carriage (1963)
Infused with a jazzy, nouvelle vague–inspired energy, Bo Widerberg's feature debut has the freshness of youth. Building on his manifesto's call for a socially relevant Swedish cinema, the writer turned director offers a vivid portrait of a young factory worker (Inger Taube) finding her way toward independence as she weathers unexpected pregnancy, learns hard lessons from relationships with two very different men, and leaves behind the only home she has ever known. Abetted by fellow filmmaker Jan Troell's coolly beautiful monochrome cinematography, Widerberg takes a bold first step in his mission to create a cinema that is both engaged and engaging.
Raven's End (1963)
A period piece that forgoes nostalgia in favor of a stark examination of working-class struggle, Bo Widerberg's second feature unfolds in 1936 in the director's hometown of Malmö. It's there, in the poor district of Raven's End, that young Anders (Widerberg's regular collaborator Tommy Berggren) chases his dream of becoming a writer while growing increasingly disillusioned with the dead-end world that surrounds him: an alcoholic father, a toiling mother, and the ominous specter of Nazism. Delivering a bracing jolt of kitchen-sink realism to Swedish cinema, Widerberg paints an unsparing portrait of youthful idealism bumping up against economic despair.
Elvira Madigan (1967)
Bo Widerberg reached new heights of visual lyricism with this sublime retelling of a real-life nineteenth-century romantic tragedy. Bound by their all-consuming desire, a young circus tightrope walker (Pia Degermark, winner of the Cannes Best Actress prize) and a lieutenant (Tommy Berggren) with a wife and children forsake everything to be together and escape to the countryside—only to see their lovers' idyll gradually give way to poverty and desperation. With its painterly, sun-dappled images and indelible use of Mozart's Piano Concerto no. 21, this 1960s art-house sensation is the most ravishing expression of Widerberg's recurring theme of the tension between individual freedom and social responsibility.
Ådalen 31 (1969)
One of Bo Widerberg's most explicitly political works imbues the true story of a 1931 labor strike with a powerful contemporary resonance. In the industrial district of Ådalen, in the north of Sweden, a peaceful demonstration takes a tragic turn, leading to a historic general strike. Amid these events, the teenage Kjell (Peter Schildt) experiences sacrifice and strife, love and loss, and the consequences of this shocking violence. Working once again with Elvira Madigan cinematographer Jörgen Persson—who captures shimmering, light-filled images in graceful widescreen—Widerberg entwines a stirring portrait of resistance with an intimate coming-of-age journey for a vision of history that feels vibrantly, urgently alive.
FOUR-BLU-RAY SPECIAL EDITION FEATURES
New restorations, with uncompressed monaural soundtracks
New introduction to director Bo Widerberg by filmmaker Ruben Östlund
New interviews with actor Tommy Berggren and cinematographer Jörgen Persson
The Boy and the Kite (1962), a short film by Widerberg and Jan Troell, with an introduction by Troell
Swedish television interviews with Widerberg from the 1960s
Behind-the-scenes footage from the making of Elvira Madigan
RATED: ‎ R (Restricted)
STUDIO: The Criterion Collection
Number of DISCS: ‎ 4
PLUS: An essay by film historian Peter Cowie and excerpts by Widerberg from his 1962 book Vision in Swedish Film
BO WIDERBERG'S NEW SWEDISH CINEMA (CRITERION COLLECTION)