Show results for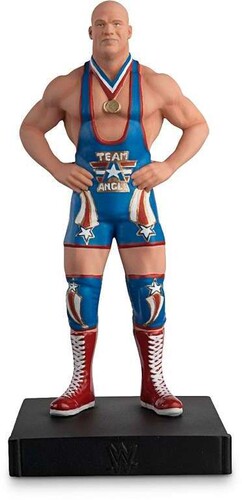 WWE - KURT ANGLE
Description:
Kurt Angle came to the WWE glory from amateur wrestling where he won his first gold medal in 1996. Now retired, he stayed involved in the backstage life of WWE.
This fantastic metal resin Kurt Angle figurine captures this superstar in his signature pose with his hands on his waist showing off his impressive muscles.
He is wearing his team Angle era version attire with two gold medals around his neck. The figurine is masterfully hand-painted and stands at 5 inches tall on a ring style WWE base!
Product Features:
Portrays Kurt Angle posing on a stage like base, dominating the ring
WWE logo on the front of the base so you know it's legit...
Hand-painted for incredible detail
Great gift for WWE fans
The fantastic statue comes with an officially approved 16-page magazine. Written by WWE experts, the magazine takes a look at Kurt Angle's career, her greatest matches, signature moves and the history of the WWE organization.