Show results for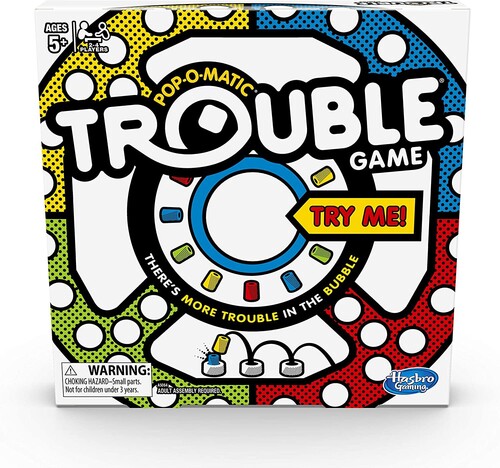 TROUBLE
The Trouble game is peg-popping fun! The excitement begins as soon as a player presses the Pop-O-Matic bubble to roll the die. In the Trouble board game, kids race to get all their game pieces around the board; but be careful! A player could get bumped and sent back to the beginning. Kids can play the classic Trouble game or a more challenging version with Power Up spaces. Be the first player to get all 4 pegs into the Finish zone to win. The Trouble board game can be a fun activity for kids ages 5 and up -- 2, 3, or 4 players can play at a time.
FEATURES:
FUN GAME FOR AGES 5 AND UP: Just 2 players are needed to play the Trouble board game; engages kids ages 5 and up
2-4 PLAYERS: The Trouble game is a fun activity for play dates, after school, and family time; enjoy playing the game with 2, 3, or 4 players
POWER UP SPACES: The game instructions include options for playing the classic Trouble game or using Power Up Spaces
POP-O-MATIC BUBBLE: The iconic Pop-o-Matic die roller bubble is fun to press, and it keeps the die from getting lost
GREAT FAMILY GAME: Adults and kids 5 and up can play the Trouble game together. It's a great choice for family game night
Ditch the TV and re-ignite family night with the get-together amusement of a Hasbro game
Party it up and surprise guests at your next event with laugh-out-loud games from Hasbro Gaming
Nostalgic tabletop gameplay meets interactive digital content for an immersive gaming experience
Hasbro Gaming imagines and produces games that are perfect for every age, taste and event.
Hasbro Gaming - Trouble