Show results for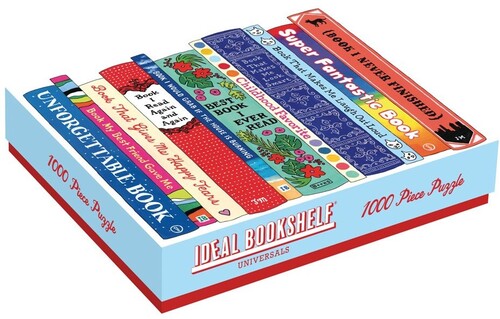 IDEAL BOOKSHELF UNIVERSAL 1000 PIECE PUZZLE
Summary:
Piece together the humorous titles and colorfully illustrated spines of these books that could be found on anyone's shelf. From the creative mind of artist Jane Mount and her company for booklovers, The Ideal Bookshelf: Universal 1000pc Puzzle from Galison features a more universal work than the customized bookshelves she normally creates for voracious readers everywhere. This is the perfect for any book lover in your life, even if that's yourself!
1000+ PIECE PUZZLE:
The 1054-piece colorful jigsaw puzzle is just the right level of challenge for a few days of activity. This whimsically illustrated puzzle includes an insert with information about the artist and the image.
ILLUSTRATIONS BY JANE MOUNT:
This flawless fit jigsaw puzzle features humorous titles and colorfully illustrated book spines that can be found on anyone's shelf. Makes an excellent gift for any book or puzzle lover!
HIGHEST QUALITY MATERIALS:
Galison uses continuous quality control checks during production to ensure there is virtually no puzzle dust. Each piece is printed with no glare, non-toxic inks.
EASY HANDLING:
The 1054 puzzle pieces are thick and sturdy, and the back sides are a white matte finish. The completed puzzle measures 20" x 27" and the package measures 8.25" x 11.25" x 2".
SCREEN-FREE FUN:
For over 25 years, Galison has created stationery, gifts and puzzles that bring art to everyday life. All Galison products adhere to CPSIA, ASTM, and CE Safety Regulations.
- Assembled puzzle size: 20 x 27''
- Box: 8.25 x 11.25 x 2''
About the Author:
Jane Mount Galison (Illustrated by)
Product Details:
PUZZLE: 1000+ PIECES
Family Fun