Show results for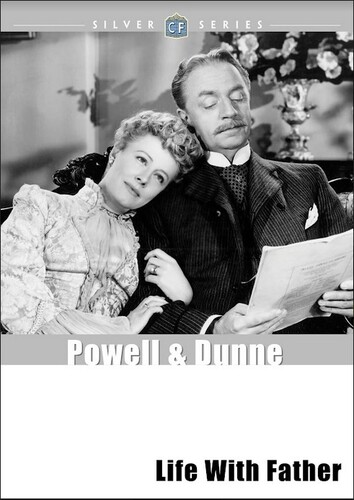 Description
Life With Father on DVD
SYNOPSIS:
Now available from ClassicFlix, the 1947 motion picture classic based on one of the longest-running hits in Broadway history!
In turn-of-the-century New York, stockbroker Clarence Day, Sr. (William Powell) runs the family household in the same manner as he does his business. He's demanding and strong-willed, insisting that every detail measure up to his satisfaction. But he's a good provider and devoted husband to his patient wife Vinnie (Irene Dunne), who tolerates her spouse's tirades while lovingly looking after their four (red-headed) sons.
After insisting that no relatives be allowed to visit, Clarence fights to keep his temper in check when he learns that Vinnie has invited her Cousin Cora (ZaSu Pitts) and her young protege Mary Skinner (Elizabeth Taylor) to stay for a week. But his mettle will truly be tested when he engages in a battle of wills with Vinnie over whether or not he'll agree to be baptized in order to avoid eternal damnation.
New Yorker essayist Clarence Day, Jr.'s reminiscences of his life and family were the inspiration for Life With Father, a 1939 play by Howard Lindsay and Russel Crouse that would boast of an eight-year run on stage (a record 3,224 performances) and prompted studio mogul Jack L. Warner to shell out $500,000 for the film rights. Father would be Warner Brothers' highest-grossing feature in 1947, and was adapted for the silver screen by Academy Award-winning screenwriter Donald Ogden Stewart (The Philadelphia Story), helmed by famed director and Oscar recipient Michael Curtiz (Casablanca) and scored by 24-time Oscar nominee, and three-time winner, Max Steiner (Now, Voyager).
Life With Father garnered four Oscar nominations including a Best Actor nod for star William Powell, who gives one of his finest screen performances as the curmudgeonly patriarch of the Day family. Irene Dunne shines as well in one of the few color films she made in her distinguished motion picture career. Add to this all-star mix Oscar winners Elizabeth Taylor and Edmund Gwenn, in addition to ZaSu Pitts, Jimmy Lydon, Martin Milner (the only natural redhead amongst the Day brood), Emma Dunn, Mary Field, Elizabeth Risdon and Clara "Auntie Em" Blandick."
DETAILS:
FORMAT: DVD
GENRE: Comedy, Family
RATING: NR
RUNTIME: 118 minutes
LANGUAGE: English
DISC COUNT: 1
Color/B&W: Color
Region: 1
Theatrical Year: 1947
Aspect Ratio: 1.37:1
Director: Michael Curtiz
Actors: William Powell, Irene Dunne, Elizabeth Taylor, Edmund Gwenn, Zasu Pitts, Jimmy Lydon, Martin Milner, Emma Dunn, Moroni Olsen, Elisabeth Risdon, Derek Scott, Heather Wilde, Mary Field, Queenie Leonard, Monte Blue, Clara Blandick
Life With Father (ClassicFlix Silver Series)