Show results for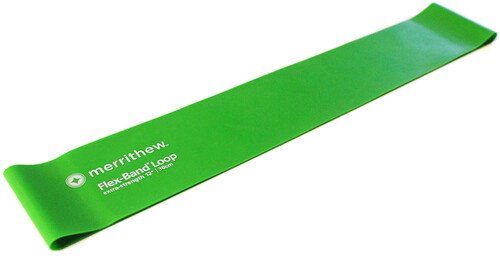 MERRITHEW FLEX-BAND LOOPS EXTRA STRENGTH 12 (GRE
Merrithew Flex-Band® Loops Extra Strength 12" (green)
Use the power of resistance training to build upper and lower body strength. This simple, super-portable, highly effective tool intensifies exercise, adding challenge to everything from bicep curls to core work, maximizing strength, speed, flexibility and rehabilitation exercises. It's also great for supporting chin-ups and dips – just slip it in your gym bag and take it with you wherever you work out.
BENEFITS & FEATURES
10" & 12" sizes available in regular and extra strength
Adds resistance to weight training and increases functional exercise options
Ideal for physical therapy and injury recovery exercises
Limited range of motion helps to target specific muscles for proper activation
Gentle on joints, it's great for toning legs, hips and glutes
Material- latex
CARE & CLEANING
Wipe clean using a mixture of water and mild soap and rinse well.
Ensure product is dry before using.
Never use corrosive cleaning products
SPECS
LENGTH: 12"
WIDTH: 2.0"
HEIGHT: 0.024"
WEIGHT: .25lbs