Show results for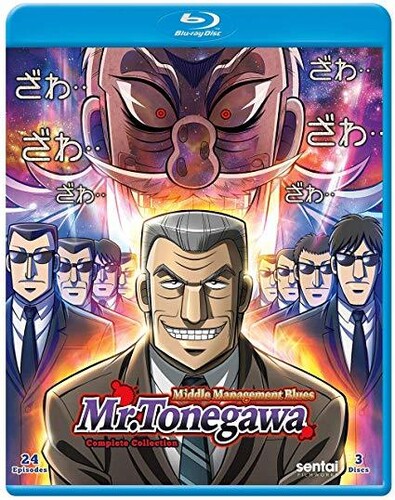 Description
Mr. Tonegawa: Middle Management Blues on Blu-ray
Mr.Tonegawa: Middle Management Blues contains episodes 1-24 of the anime directed by Keiichiro Kawaguchi.
Nobody knows what it's like to be the bad man… except the bad man's right-hand man, who has to take the boss' deranged ideas and turn them into functioning plans. So, when the sadistic president of the Teiai Group decides he's bored with the routine leg breaking and widow/orphan evicting, he assigns the task of coming up with something "special" to his ruthless Number Two, Yukio Tonegawa. But how do you amuse someone who destroys a dozen lives before breakfast?
There's a huge pool of potential victims in the form of TFO's swollen roster of defaulting borrowers, but if Tonegawa and his team of nearly identical men in black look-alikes can't create a "game of death" that tickles the boss' demented funny bones, they may end up playing the game themselves!
DETAILS:
Publisher: SENTAI FILMWORKS
Media: Blu-ray
Spoken Language: English, Japanese
Subtitle Language: English
Run Time: 600
Year Created: 2018
Release Date: 10/15/2019
Region Code: A
Mr Tonegawa Middle Management Blues Blu-ray