Show results for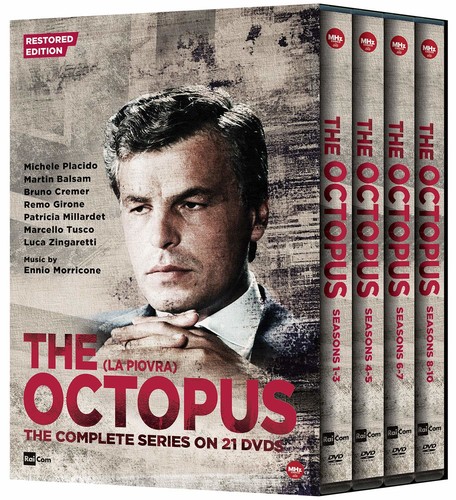 Description
Octopus: Complete Series on DVD
IN ITALIAN WITH ENGLISH SUBTITLES
First broadcast in Italy in 1984, The Octopus (La Piovra) was an international phenomenon, running for ten seasons over 18 years. The title of this classic Mafia thriller says it all, evoking the image of a secret criminal cabal extending its tentacles into every layer of society. Ultimately filmed on three continents, The Octopus brings scope and sophistication to the story of an age-old battle, and shows the cost men and women pay when they stand up to the injustice of organized crime.
Created by Academy Award-winning screenwriter Ennio de Concini (Il Grido, Divorce Italian Style) director Damiano Damiani (A Bullet for the General) and with music, by legendary Italian composer Ennio Morricone, The Octopus was the first Italian TV series to take a realistic look at the Mafia and law enforcement. Michele Placido won international fame for his role as police inspector Corrado Cattani, a role that brought him icon status throughout Eastern Europe and the former Soviet Union, where the show was particularly popular, to Indonesia, Australia and beyond. The outstanding international cast included Academy Award-winner Martin Balsam (A Thousand Clowns, 12 Angry Men), Remo Girone (Live By Night, Voice From The Stone), Angelo Infanti (The Godfather), Francisco Rabal (Belle de Jour, Sorcerer), Bruno Cremer (Maigret) and Luca Zingaretti (Detective Montalbano), among notable others.
In the third season director Luigi Perelli and screenwriters Sando Petraglia and Stefano Rulli took over creative direction and the show went from strength to strength, culminating with the Season 4 finale, the final episode to feature Michele Placido's Inspector Cattani, which achieved record viewing figures for Italian broadcaster RAI in 1989.
From the fifth season, Remo Girone's arch villain Tano Cariddi took on added dimensions and became as iconic in his own right as Placido's police inspector was. French actress Patricia Millardet and Italian leading man Vittorio Mezzogiorno led the new cast, and the series continued its groundbreaking, ripped-from-the-headlines plots echoing and, in some cases, predating seminal events in the then-contemporary battle against the Sicilian Mafia.
This new edition of the complete series of The Octopus has been digitally remastered with updated, easy-to-read English subtitles and a wealth of DVD extras, including interviews with actor Remo Girone, director Luigi Perelli and writer Sandro Petraglia.
The Octopus: The Complete Series