Show results for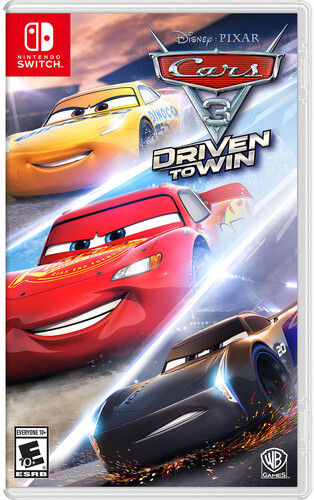 Description
::PRE-OWNED:: Cars 3: Driven to Win for Nintendo Switch - Refurbished on Video Game
Product has been FACTORY REFURBISHED. All Pre-owned product has been thoroughly tested, cleaned and is guaranteed to work. Original UPC will be covered with a generic Pre-Owned UPC label. Actual product received could be slightly different than what picture shows. To clarify the main photo may show the standard edition but you could actually receive a Special Edition, Limited Edition, Game of the Year edition or a Store Specific version or vice versa. Since this is ultimately a used product there will be NO DLC or additional materials. Bonus Material not available on Pre-owned items. Game cases may be replaced with new aftermarket cases and box art. The aftermarket case may not match the size and color of the original case.
Standard Return Policy applies. USA Shipping Only
Cars 3: Driven to Win for Nintendo Switch
Start your engines and gear up for an all-new action-packed adventure in Cars 3: Driven to Win inspired by Disney Pixar's film, Cars 3. Join Lightning McQueen and Cruz Ramirez as they prepare for a rematch against rival racer Jackson Storm. Master your driving skills for the ultimate world-class, competitive racing experience. Dive in and play with over 20 customizable characters including the beloved Lightning McQueen, Jackson Storm, along with Cruz Ramirez and the next generation of racers. Cruise through over 20 tracks set in iconic locations from the film such as Radiator Springs and Florida International Speedway.
Features
Train and advance your abilities of two-wheel driving, barrel rolls and more in 6 thrilling game modes.
Catch air and perform as many stunts and tricks to get the highest score.
Collect and use a variety of power-ups to eliminate as many crash karts as possible to get the highest score.
Hop into the tracks against Lightning McQueen and the gang to rev up for the ultimate challenge.
Put your training to the test and race against your family and friends to become the ultimate champion.
Platform: SWITCH