Show results for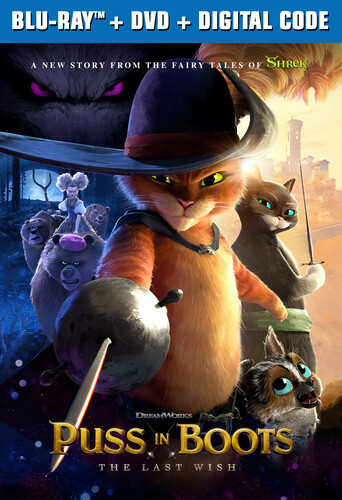 Description
Puss in Boots: The Last Wish on Blu-ray
Everyone's favorite leche-loving, swashbuckling, fear-defying feline, Puss in Boots, returns in a new adventure from the Shrek universe as the daring outlaw discovers that his passion for peril and disregard for safety have taken their toll. Puss has burned through eight of his nine lives, though he lost count along the way. Getting those lives back will send Puss in Boots into the Black Forest to find the mythical Wishing Star on his grandest quest yet. With only one life left, Puss will have to humble himself and ask for help from his former partner and nemesis: Kitty Softpaws. They are joined in their journey by a chatty and cheerful mutt named Perro. Together, our trio of heroes will need to stay one step ahead of the fairytale realm's craftiest crooks including Goldilocks and the Three Bears.
FEATURES:
Genre(s): Animated, Family, Comedy
MPAA Rating: PG
DreamWorks Puss in Boots © 2022 DreamWorks Animation LLC. All Rights Reserved.
PUSS IN BOOTS: THE LAST WISH Blu-Ray + DVD + Digital