Show results for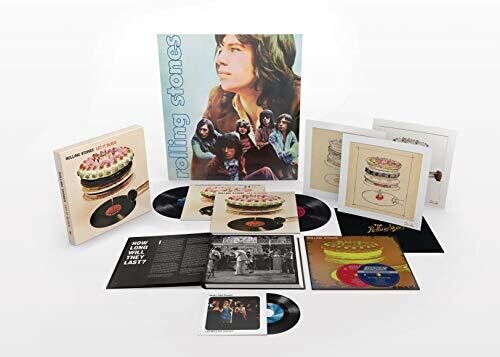 Description
Let It Bleed (50th Anniversary Edition) on LP
On 1 November, ABKCO Records will release the Rolling Stones' Let It Bleed (50th Anniversary Limited Deluxe Edition) as a 2LP/ 2 HybridSuper Audio CD set. It's a lavish new edition of the groundbreaking and multi-platinum album, which went to No. 1 in the UK and No. 3 in the US on its first release late in 1969.
The new edition was entirely remastered in both stereo and mono by Bob Ludwig at Gateway Mastering. The set features a reproduction of the 1969 7" mono picture sleeve single 'Honky Tonk Women'/'You Can't Always Get What You Want.' That single was first released four months ahead of Let It Bleed, and went to No. 1 on both sides of the Atlantic. 'Honky Tonk Women' was reprised on the album with a country flavour as 'Country Honk.'
Three 12" x 12" hand-numbered replica-signed lithographs are also featured, printed on embossed archival paper, as well as a full colour 23" x 23" poster, with restored artwork from the Decca Records package of 1969.
The deluxe edition also has an 80-page hardcover book with an essay by music writer David Fricke, who observes in the notes: "No other rock & roll album of the late Sixties so embodied…the contradictions, turbulence of its time, creation and the band…than Let It Bleed." There are also never-before-seen photos by the Stones' tour photographer Ethan Russell. Let It Bleed will also be available as a stand-alone CD, vinyl LP, and digitally.
Says Ludwig, who has mastered or remastered many other Stones albums: "When we did the first Let It Bleed remaster in 2002, our intention was to pay homage to the original work. When we did this new version, the purpose was to make it as great as it could possibly sound. If you listen on a good set of speakers or good headphones, you'll hear subtle things in the background that are now much more clear that were somewhat hidden before."
The new edition faithfully reproduces the work of graphic designer Robert Brownjohn, whose original sketches for the Let It Bleed cover depict random round items on the spindle of an antique record player. They included a cake with figurines representing the members of the band. The sketches are on two 12" x 12" lithographs, hand numbered, replica-signed and printed on embossed archival paper.
The set is completed by a third lithograph of the final art, without its titles, in a foil-stamped envelope. Brownjohn died less than a year after the album's release of the album, and his estate has granted ABKCO exclusive use to manufacture his images and signature. The 50th anniversary release also has a reproduction of the full colour, 23" x 23" poster that accompanied Decca's original 1969 UK release of the album.
The Rolling Stones - Let It Bleed (50th Anniversary Limited Deluxe Edition)