Show results for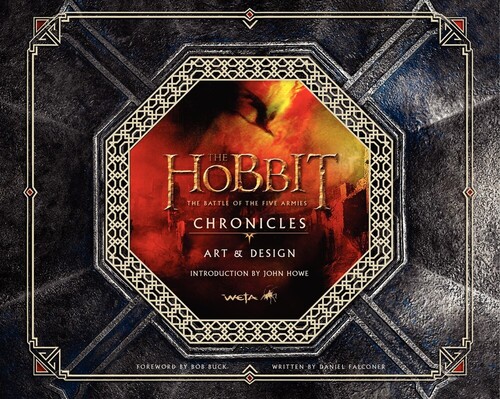 HOBBIT THE BATTLE OF THE FIVE ARMIES CHRONICLES
Summary
A stunning look at the creative process behind The Hobbit: There and Back Again—the third and final installment of one of the world's biggest motion picture franchises from Academy Award-winning filmmaker Peter Jackson
In this concluding chapter of Peter Jackson's cinematic rendering of J.R.R. Tolkien's popular masterpiece, The Hobbit, Bilbo, Gandalf the Grey, and Thorin's Company of Dwarves enter the Lonely Mountain of Erebor, lair of the ferocious fire-breathing Dragon Smaug, to reclaim the dwarves' stolen gold; battle against Azog, an Orc chief and his hoard of orcs; and come face to face with a terrifying Necromancer.
Working closely with the film's production staff, the award-winning team at WETA brings together more than 240 pages of spectacular four-color visuals, including hundreds of images of concept artwork, photographs, development paintings, and more created by the artists and designers working behind the scenes. Movie photography and finished imagery accompany the sketches and drawings, showing how the artists' vision was realized from design to final product.
Chock full of insider stories, details, and insights, The Hobbit: There and Back Again Chronicles: Art & Design also includes a special bonus feature—a three-page fold-out sure to delight fans and become a treasured collectible.
Weta Workshop is a multi-award winning conceptual design and physical manufacturing facility based out of Wellington, New Zealand, servicing the world's entertainment and wider creative industries. Weta Workshop is also a multi-disciplinary facility, with crew members expert in a diverse range of disciplines all housed under the one roof. These services include conceptual design and the manufacturing of weapons, armor and chainmail, specialist props, custom vehicles, specialty costumes, miniatures and models, special makeup and prosthetics, and public art installations or displays.
The team at Weta enjoys engaging in projects holistically, from preliminary technical analysis and conceptual design through to manufacture across all departments and the final delivery of product and crew to set, anywhere in the world. Drawing on more than twenty years of filmmaking experience, five-time Oscar-winning design and special effects supervisor Richard Taylor is intimately involved in all projects from concept through to delivery. Best known for the company's design and effects work on award-winning film projects, including The Lord of the Rings trilogy, King Kong, The Chronicles of Narnia, Avatar, District 9, and The Adventures of Tintin, Weta Workshop is not limited to film and television, offering services to creative industries worldwide.
Prodcut Details
With images throughout
Hardcover: 240 pages
Publisher: Harper Design
Performing Arts / Film