Show results for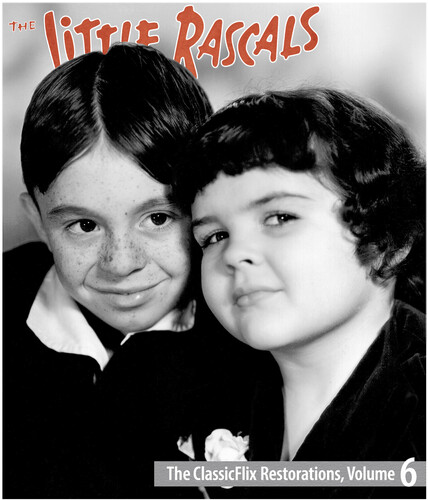 Description
The Little Rascals: The ClassicFlix Restorations, Volume 6 on Blu-ray
The Little Rascals - The ClassicFlix Restorations, Volume 6
Remastered, uncut and beautifully restored, now you can see The Little Rascals like never before! With restorations so glorious, it will be like watching these iconic shorts for the first time!
By 1935, the writing was on the wall for the staple at Hal Roach Studios: two-reel comedies. While his short films were still popular with the public, Roach's filmic output was losing ground financially to double features, necessitating that his stars either transition to feature films (like Laurel & Hardy) or find employment elsewhere. An exception was made for Our Gang as the producer continued to make one-reelers featuring the kiddie troupe with the focus on five members: Spanky, Alfalfa, Darla, Buckwheat and Porky.
With the length of the shorts cut in half (Our Gang Follies of 1938 [1937] being an exception), the finished streamlined product was both cost-effective and profitable. The change didn't seem to hurt the franchise either as the first one-reeler, Bored of Education (1936), won the Academy Award for Best (One-Reel) Short Subject the following year. In 1938, after two additional years of cranking out classic comedies, Roach would sell the property to MGM where the series continued until 1944.
The Little Rascals - The ClassicFlix Restorations, Volume 6 contains the final 23 Our Gang sound shorts produced by the Hal Roach Studios: Bored of Education (1936) to Hide and Shriek (1938)—with each short newly scanned and restored from the original Hal Roach 35mm film elements.
A must-have for any true Our Gang fan, Volume 6 features the talents of George "Spanky" McFarland, Billie "Buckwheat" Thomas, Carl "Alfalfa" Switzer, Darla Hood, Eugene "Porky" Lee, Tommy "Butch" Bond and Sidney "Woim" Kilbrick. There are also special appearances from former members Mickey Daniels, Mary Kornman, Joe Cobb and Matthew "Stymie" Beard!
FEATURES:
Theatrical Year: 1936-38
Runtime: 254 minutes
Aspect Ratio: 1.37:1
# Discs: 1
Genre: Comedy, Shorts
Category: Classic
Language: English
Subtitles: English
LITTLE RASCALS: CLASSICFLIX RESTORATIONS, Volume 6