Show results for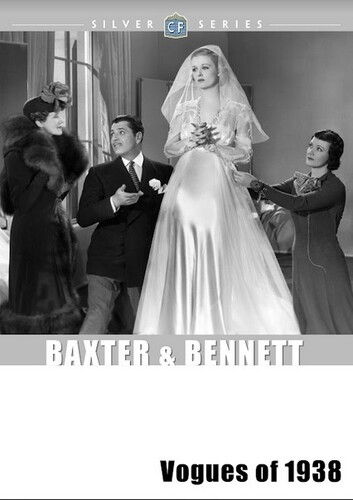 Description
Vogues of 1938 on DVD
SYNOPSIS:
For the first time on home video comes an engaging Technicolor musical comedy with a romance set against the background of Fifth Avenue fashion!
Debutante Wendy Van Klettering (Joan Bennett) is being forced into a loveless marriage to wealthy Henry Morgan (Alan Mowbray) for the purpose of restoring the family's sagging financial outlook. But on the "big day", she jilts Morgan and escapes the media mob with a little help from fashion designer George Curson (Warner Baxter).
Owner of the prestigiously stylish House of Curzon, George has "designs" of his own on Wendy and hires her to model, gambling that her ""runaway bride"" notoriety will give his establishment a much-needed publicity boost. Romance soon starts to blossom between George and Wendy, particularly once George's wife Mary (Helen Vinson) neglects him because she's set her sights on a stage career.
Directed by Irving Cummings from a screenplay penned by Bella and Samuel Spewack, Wanger assembled a top-notch cast for Vogues including Mischa Auer, Jerome Cowan, Alma Kruger, Marjorie Gateson, Hedda Hopper and Penny Singleton (later known to millions as "Blondie" and still being billed as ""Dorothy McNulty"").
FEATURES:
Theatrical Year: 1937
Runtime: 105 minutes
Aspect Ratio: 1.33:1
# of Discs: 1
GENRE: Comedy, Romance, Musical
Category: Classic
Language: English
Director: Irving Cummings
Actors: Warner Baxter, Joan Bennett, Helen Vinson, Mischa Auer, Alan Mowbray, Jerome Cowan, Alma Kruger, Marjorie Gateson, Penny Singleton, Irving Bacon
Studio: ClassicFlix
Region: 1
Rating: NR
Color or B&W: B/W
VOGUES OF 1938 (ClassicFlix Silver Series)