Show results for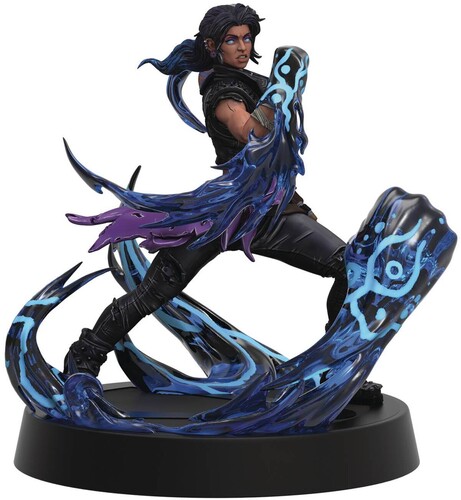 BORDERLANDS 3 FIGURES OF FANDOM - AMARA
Figures of Fandom - Amara
Weta Workshop are charging into the mayhem of Borderlands 3 and building a bunch of badass collectibles. Make room for Figures of Fandom and Mini Epics from the latest Borderlands adventure, available now!
From the certified cool-stuff addicts at Weta Workshop comes Figures of Fandom: a new generation of collectibles featuring iconic characters from film, television, and gaming!
ABOUT BORDERLANDS 3
At the hard edge of the galaxy lies a group of planets ruthlessly exploited by militarized corporations. Brimming with loot and violence, this is your home – the Borderlands.
Now a crazed cult known as the Children of the Vault has emerged and is spreading like an interstellar plague. Become a Vault Hunter and save the galaxy from this fanatical threat.
Gifted with powerful Siren abilities, Amara is a renowned champion of the people and a bonafide badass. She began experiencing her siren powers at early age and earnt her black belt in Electric Karate years ago. With ethereal fists she can deal damage to anyone and everything in her path.
Characters are precious to us at Gearbox. We put a lot of love, sweat, and tears into making them special. It's awesome to have a partner in Weta Workshop who treasures them as much as we do!
Randy Varnell - Narrative Director, Borderlands 3
FEATURES:
By fans, for fans!
Approx. 1:8 scale;
Made from high-quality PVC;
Siren melee molded in transparent resin, with paint overlay;
Base features Borderlands logo in black gloss.
FIGURES OF FANDOM
Artistry. Passion. Pure unadulterated pop culture. Experience our next generation of collectibles with Figures of Fandom! Made from high-quality PVC and standing at approximately 9" tall, each character is faithfully rendered from licensed 3D assets and comes complete with a stylized environmental base. The prototype for each character was digitally sculpted and perfected at Weta Workshop, the award-winning concept design and manufacturing facility known for its high-quality film collectibles. Fan-favourites from Borderlands 3, Apex Legends, and The Lord of the Rings are available to order now and there's plenty more to come.
These are collectibles made by fans, for fans. Clear space on your shelf and let your fan flag fly.
Please note: images are of a pre-production prototype. Minor variations may occur.