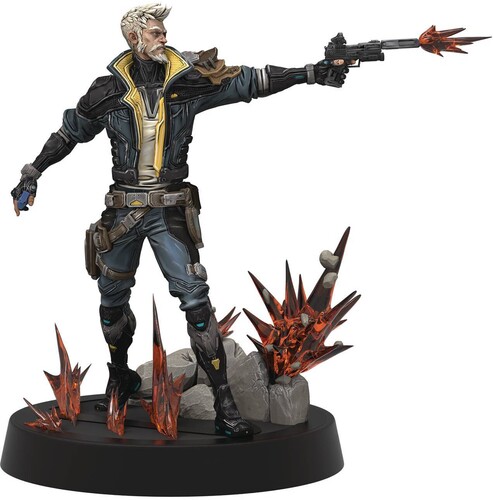 BORDERLANDS 3 FIGURES OF FANDOM - ZANE
Figures of Fandom - Zane
Weta Workshop are charging into the mayhem of Borderlands 3 and building a bunch of badass collectibles. Make room for Figures of Fandom and Mini Epics from the latest Borderlands adventure, available now.
From the certified cool-stuff addicts at Weta Workshop comes Figures of Fandom: a new generation of collectibles featuring iconic characters from film, television, and gaming!
The Outlands are teeming with resources and opportunity, but danger lurks around every corner. Its pioneers, explorers, and outlaws used to spend their lives locked in an endless power struggle now, they settle their differences in the Apex Games, a bloodsport where the brave compete for money, fame, and glory. Survive long enough and they call you a Legend.
Born into Pandora's notorious Flynt family, Zane is a semi-retired corporate hitman who always has a gadget up his sleeve. He's a man of singular (and often misunderstood) purpose, with a cool calm persona and specialist knowledge in covert espionage.
Weta Workshop has succeeded in crafting gorgeous renders of characters that are beloved to us. Both straight-up and stylized, I can't stop staring at their work. Well done!
Randy Varnell - Narrative Director, Borderlands 3
FEATURES:
By fans, for fans!
Approx. 1:8 scale;
Made from high-quality PVC;
Zane paired with the DAHL pistol;
Gunfire molded in transparent resin;
Base features Borderlands logo in black gloss.
FIGURES OF FANDOM
Artistry. Passion. Pure unadulterated pop culture. Experience our next generation of collectibles with Figures of Fandom! Made from high-quality PVC and standing at approximately 9" tall, each character is faithfully rendered from licensed 3D assets and comes complete with a stylized environmental base. The prototype for each character was digitally sculpted and perfected at Weta Workshop, the award-winning concept design and manufacturing facility known for its high-quality film collectibles. Fan-favourites from Borderlands 3, Apex Legends, and The Lord of the Rings are available to order now and there's plenty more to come.
These are collectibles made by fans, for fans. Clear space on your shelf and let your fan flag fly.
Please note: images are of a pre-production prototype. Minor variations may occur.